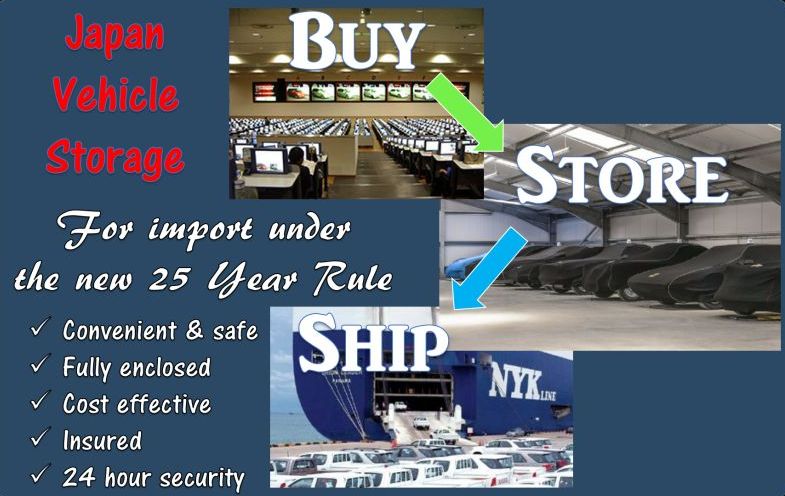 Convenient, safe and cost-effective Japan car storage is now available for those who wish to buy ahead of import eligibility.
This is particularly suited to collector vehicles where the total storage cost is likely to be considerably less than the market price rise during the same period.
Japan car storage also allows more time to source hard-to-find vehicles, then have them ready for immediate export as soon as they become eligible under the new 25 Year Rule.
Indoor and outdoor Japan car storage facilities are located within a 3 minute walk of our agent's office.  This area of Japan has a mild climate all year round so is ideally suited for vehicle storage.
With suitable Japan car storage in place, we are now taking orders for those wanting to beat the inevitable price rises on NSX's, Porsches, M3's or any other 1994 and older enthusiast model under the new vehicle import regulations.
Only 10 indoor Japan car storage spaces will be available initially in a facility dedicated to vehicle storage only.
Weekly start / run included. Options – detailing, car cover and battery tender. And yes you can visit your car if you want !
With consistent enquiries from those wanting to buy ahead of the price curve since the Australian 25 Year Rule was first announced, it would be advisable to get in quickly to secure an indoor space as well as your position in line for rare and desirable models.
Storage pricing is very competitive as our agent is simply seeking to cover their setup and running costs for the first 12 months.
A 33% DISCOUNT is also available on the 1st 5 spaces for the 1st 6 months of storage.
Outdoor storage with fencing, car cover, security cameras, and full time security guard is also available right now, at 1/3 the cost of indoor storage.
The package of Bills designed to control the new import regulations that the Govt. has been planning for some years, was presented to Parliament this week, and included a new 25 Year Rule as anticipated.
This is expected to be passed into law this year and take effect by about mid-2019, allowing the first 25 Year Old imports to arrive shortly afterward.
Please note that the 25 Year Rule won't allow the import of buses or trucks.
Of course, as we know with politics, anything can happen and there is a small chance the laws may not pass as or when promised.
Clients will need to take this risk into consideration when making their decision to buy vehicles ahead of import eligibility.
It is worth noting that based on steadily increasing worldwide demand, it is highly likely that price rises for collector cars over the next 1 to 2 years will far exceed the costs of storage in Japan.
So there should be considerable savings to be made for those bold enough to get in ahead of the pack.
Vehicles purchased early should in most cases increase considerably in value during the storage period.
If sale of a vehicle became necessary for any reason including a change of circumstances for the client, the sale could be managed for them with full proceeds less any costs returned.