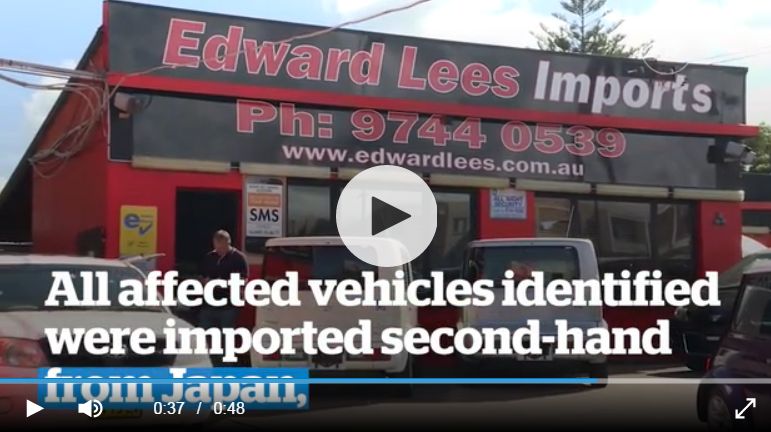 In case you've not seen the news…
Coordinated police raids on Sydney car dealers two days ago have resulted in one dealership, "Dream Car City", having its trading immediately suspended.
Videos below show police raids on several well known Sydney dealerships, including Edward Lees Imports on Parramatta Road.


Moving sale ending Feb 2016… Prophetic. Moving to another country perhaps ?
Prestige Auto Centre, Edward Lees Imports and Master Cars at Blacktown were also raided.
Those three businesses are accused of digitally altering odometers on at least 100 vehicles imported from Japan and will have to show Fair Trading NSW why they should not be disciplined.
Fair Trading NSW have been investigating the dealers for two years, following a tip-off from a consumer who was concerned about their vehicle's wear and tear, and information from police.
A number of people are expected to be prosecuted by NSW Police and Fair Trading NSW in connection with the ongoing investigation.
Fines up to $20,000 are in place for odometer tampering, while those who knowingly sell or attempt to sell a tampered vehicle face up to 10 years jail.
We feel this action is long overdue and many dealers in other States should heed this warning and feel suitably nervous.
Not only does this illegal behaviour hurt the consumer but it damages the reputation of the industry.
It also makes it difficult for businesses like ours that only source genuine vehicles and have ALWAYS provided all original paperwork including deregistration paper / export certificate and auction sheet.
One of the very reasons we started our business 17 years ago was the absence of a reliable source of genuine imports.
Some news articles have claimed that deregistration documents detailing registration and km history are not readily available from Japan, however this is not true. For some years now, past auction reports, auction sale price in Japan, Japanese registration history, the Japanese Export Certificate and other records have been available online in PDF.
Example Japanese Export Certificate produced from the Japanese de-registration paper, showing the kms at the last two registration intervals in Japan.
We recommend everyone considering buying a Japanese import locally, to obtain independent and reliable background information for their own peace of mind.

We only source the best vehicles with genuine kms. Read about our Genuine Mileage Promise
For those wanting the extra control of sourcing their own vehicle, we recommend using only an industry-recognised and licensed vehicle import agent. With a simple low fixed fee per vehicle, there is simply no conflict of interest in supplying the best quality, genuine km vehicles with original paperwork.
We would like to see the upcoming changes to the import regulations require independent odometer inspections prior to import, with the results included on a publicly available database linked to each vehicle's chassis number. That way anyone could quickly and easily access this information as part of their pre-purchase checks.
The new import scheme from 2018 must be entirely transparent with independent quality checking to eliminate conflicts of interest, protect the consumer, and ensure only the best cars are imported to Australia.
Join our Mailing List or follow us on Facebook to stay in touch with the latest news.
You can also view upcoming auction vehicles and research 3 months of past auction sales data using our Japan Car Auction Search